Building Resilience
Renewing our Capacity for Regeneration
with Donna Farhi
29th-31st January 2021
Taitamariki Hall, Takapuna, Auckland
Find Out More
Register Here
Yoga practice can be an inner oasis that quenches our need for self-nourishment and in doing so lays a groundwork for regeneration not only of our physical body but also of our mental, emotional and spiritual capacities.
Donna Farhi
Building Resilience:
Renewing our Capacity for Regeneration
29th – 31st January 2021
Yoga practice can be an inner oasis that quenches our need for self-nourishment and in doing so lays a groundwork for regeneration not only of our physical body but also of our mental, emotional and spiritual capacities.
The world as we have known it has changed irrevocably; in ways that none of us could have imagined and few of us could have prepared for.  
Yet, with these changes also lay opportunities: to imagine for ourselves a different way of being in the world that reflects what is most important to us and to the planet. 
Paradoxically, being able to adapt and respond intelligently to these new demands requires that we be deeply rested and in a state of relaxed attentiveness.  
In this weekend workshop, Donna will explore how we can utilize both ancient and contemporary Yoga practices to replenish ourselves.  
Sessions will include guided sitting meditation, movement inquiry, gentle asana practice as well as Restorative Yoga and Yoga Nidra. There will also be opportunities for dyad and group exchange as we share what we are learning from this time and what we might bring forward into the future. 
Schedule and Registration Information
The Schedule
29th January, Friday 6.30-8.30pm
30th-31st January, Saturday and Sunday
10am-1pm, 2.30-5pm each day
The Venue
Taitamariki Hall
Auburn Street Reserve
Takapuna, Auckland
Map Here >>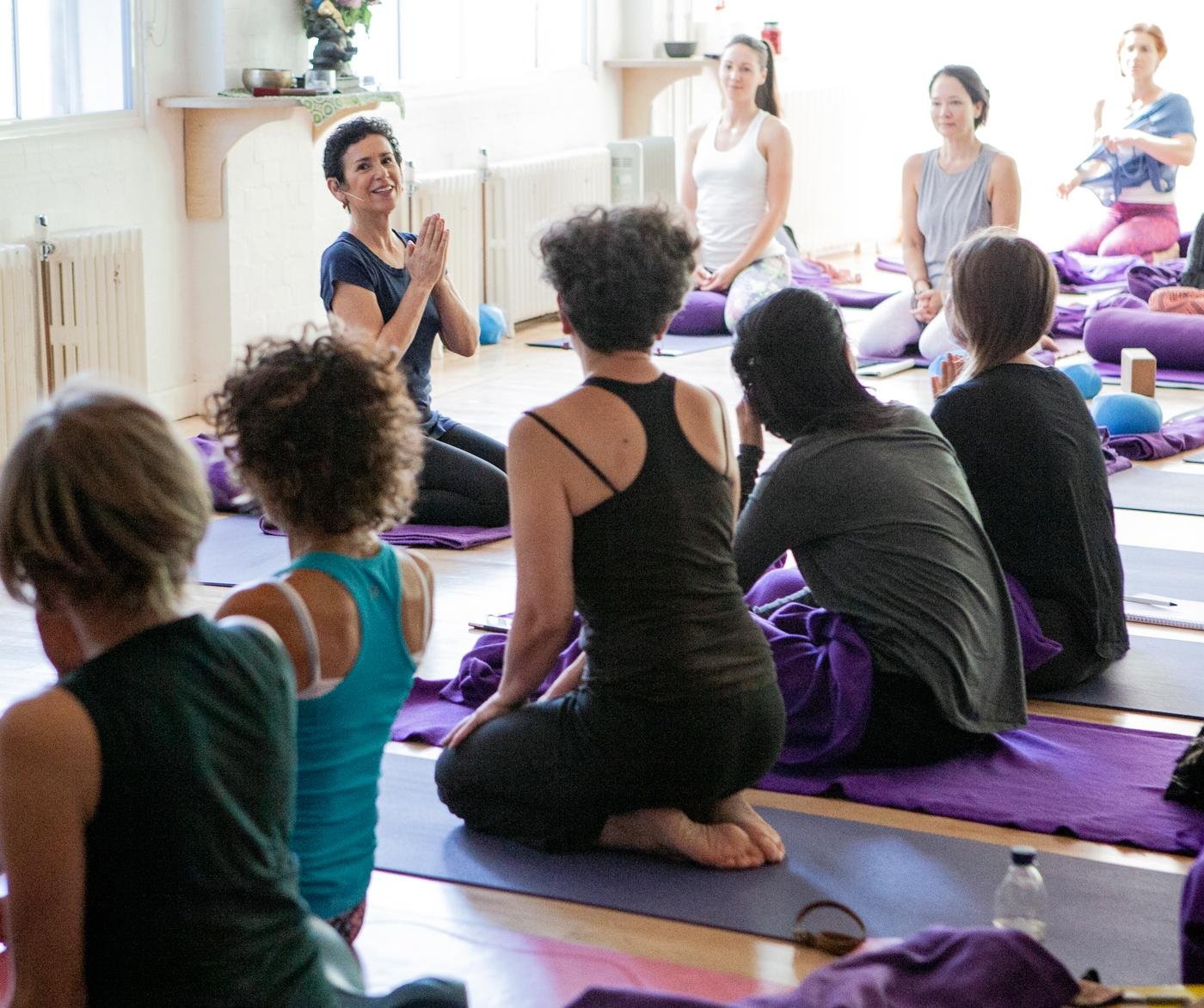 Donna Farhi is a Yoga teacher who has been practicing for over 40 years and teaching since 1982.
As a post-lineage pioneer, Donna has been at the forefront of generating a new model for teaching and practice that fosters self-inquiry through the cultivation of each persons inner reference system. Going beyond the archaic pedagogic model that is characterised by "Simon Says" mimicry and rigid formulaic methodology, her approach is to create a safe learning environment where her students can investigate, adapt and evolve their practice to honour their individual needs.
Incorporating the rigorous backing of anatomical principles for safe and sustainable practice, Donna offers progressive levels of engagement that allow people of all levels of experience and from all traditions to build their own authentic Yoga practice.
Considered the "teacher of teachers" students return to Donna's intensives year after year to be a part of the inspiring evolution of Donna's own practice and teaching.
Donna is the author of four contemporary classics:
The Breathing Book
,
Yoga Mind, Body and Spirit: A Return to Wholeness
,
Bringing Yoga to Life: The Everyday Practice of Enlightened Living
, and
Teaching Yoga: Exploring the Teacher-Student Relationship
which is a curricular text for teaching trainings worldwide.
Her fifth and most recent book, co-authored with Leila Stuart, Pathways to a Centered Body: Gentle Yoga Therapy for Core Stability, Healing Back Pain and Moving with Ease is becoming the go-to text for Yoga teachers, therapists and somatic practitioners.
Her latest online tutorial courses on Anatomy of a Centered Body and Yoga for Lower Back Pain: Keys to Sacroiliac Stability and Ease of Movement, are making her expertise more accessible to teachers and students worldwide (donnafarhi.co.nz).
Our Venue For The Workshop
Taitamariki Hall
Auburn Street Reserve
Takapuna, Auckland
Map Here >>
Accommodation and Food
Accommodation and food is not provided for participants – please do make your own arrangements.
There are plenty of cafes nearby.
A variety of accommodation options (apartments, hotels, etc) are available. Many are within walking distance. Google Search in Takapuna, North Shore area. You could start here:
Parking
There is some free parking on the surrounding streets. Please do give yourself ample time to drive, park and get to the hall at least 15 minutes before the start of the day's sessions.
There is some limited free parking at the venue (the sign says Permit Holders Only, but we have been told that this is not enforced in any way). Please note though that we cannot take any responsibility for parking issues and can only offer these suggestions.
The map offers an idea of the public parking available around the venue.