For Neal's regular classes, we use a class registration and payment system called Ubindi. 
If you are new to my classes you can simply use the register link next to the class below. This does ask that you create a free account and you can book classes ahead of time. In the long run this really helps streamline registrations and payments.
Please see below the class schedule, in-person and online over zoom. You can register for classes in advance, or turn up on the day. All concession package holders do have free access to the growing library of video and audio classes and meditations.
8 classes in-person and online
$108, includes access to video library
valid 6 months
8 classes online only
$90, includes access to video library
valid 6 months
In-person classes on Waiheke
Fridays 9.15-10.45am
Gentle Yoga  / Restorative Yoga / Yoga Nidra

Online classes
Tuesday mornings, 9-10am over Zoom
Zoom meetings open a few minutes beforehand so that we can say hello and connect, and there will be a little time afterwards to see how we are all doing.
Please have ready:
Yoga mat or large towel (please do not worry if you have no mat – I have practiced for years without one)
1-4 firm blankets
2 pillows or cushions or Yoga bolsters
Once the class begins please do make sure your Zoom microphone is set to mute – thank you.
What style of Yoga do I teach?
Yoga is fundamentally about returning us to our original wholeness. Reflecting this, my aim in teaching Yoga is for our practice together to be a nourishing, self-sustaining, refreshing and inspiring experience. The Yoga I teach has many influences, though my main inspiration is teacher Donna Farhi.
I teach movement principles, (for example, letting the breath move you; finding a balanced relationship to the ground and gravity), which help us to explore our Self through our body.
In Yoga the enquiry is to restore balance, stability, ease and sustainability in how we move and live our lives. I love teaching and sharing the beauty of the practice.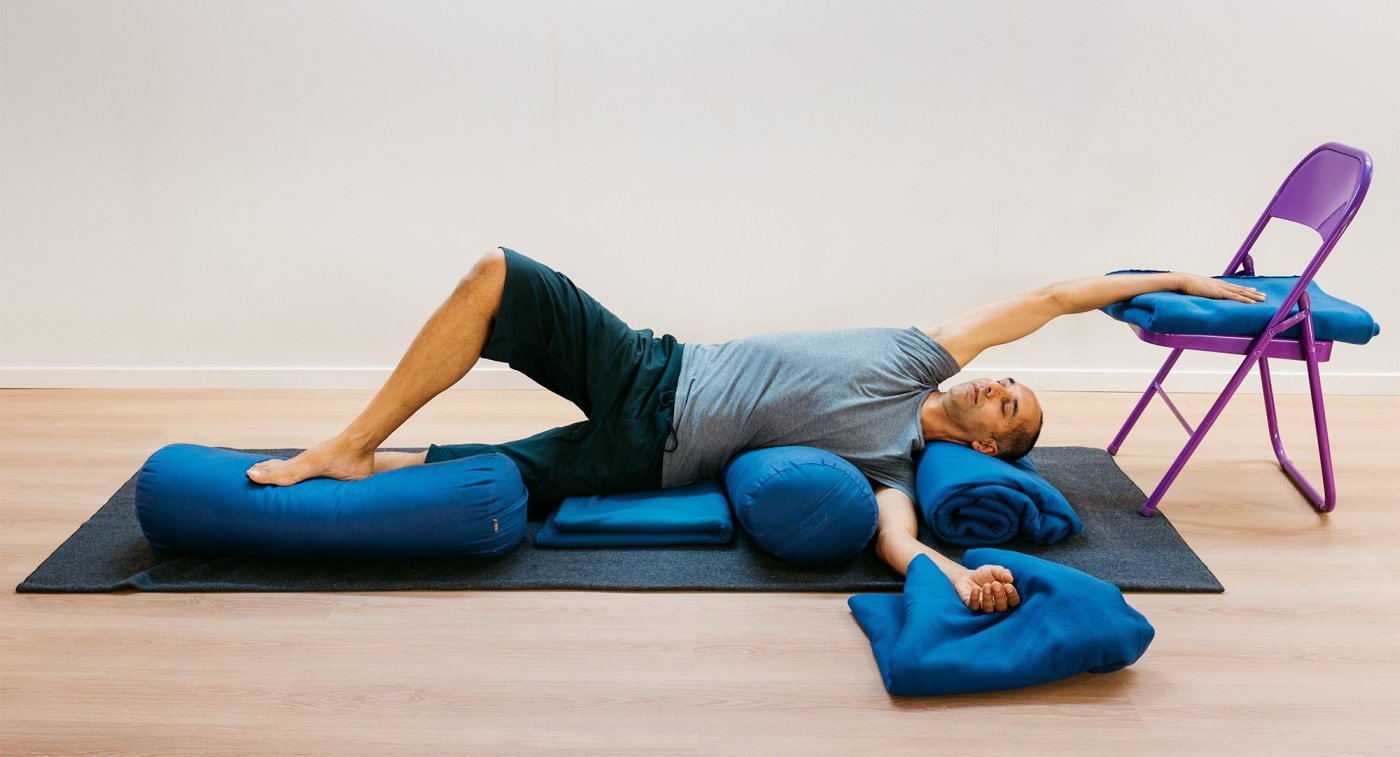 Restorative Yoga is all about the relaxation response. In a culture which seems to promote and reward "doing" and "being productive" as the only "valuable" way to live, Restorative Yoga is counter-cultural, perhaps even "revolutionary".
Restorative Yoga invites "being" rather than "doing", contentment rather than striving, being open rather than insensitive.
While initially appearing easy, like "Lying Around", Restorative Yoga may be seen as a more advanced form, more akin to meditation, where we have the time to observe sensations, our breath, our emotions and mind, and where we may welcome all of these experiences.
We use blankets, Yoga bolsters and other props to lie over, creating optimal conditions for rest, renewal and rejuvenation.
Neal regularly teaches Restorative Yoga on Waiheke and Auckland (see the workshops / retreats menu above), and is part of the core faculty for the Restorative Yoga Teacher Training at Contemporary Yoga Training.
Neal is a founding member and a part of the core faculty for Yoga Alliance and Yoga New Zealand certified Yoga Teacher Training at Contemporary Yoga Training.
It is my great privilege to be a part of the Contemporary Yoga Teacher Training. How wonderful to be involved with an incredibly skilled team of teachers who bring a huge range of knowledge and expertise to the course.

What makes this training special is the truly holistic approach to to movement and the body, breath, mind, emotions and spirit.
The course not only aims to guide students to become fantastic yoga teachers, it also invites them into a deep friendship with their body and breath.
Through experiential anatomy and movement enquiries, by encouraging a deep fascination and curiosity about our humanity and how we develop, by discovering how yoga asana (postures) may unfold naturally, without strain, how they may be sustained with ease, and how they may dissolve with grace – we can arrive at our full conscious embodiment and find our true place here in our lives.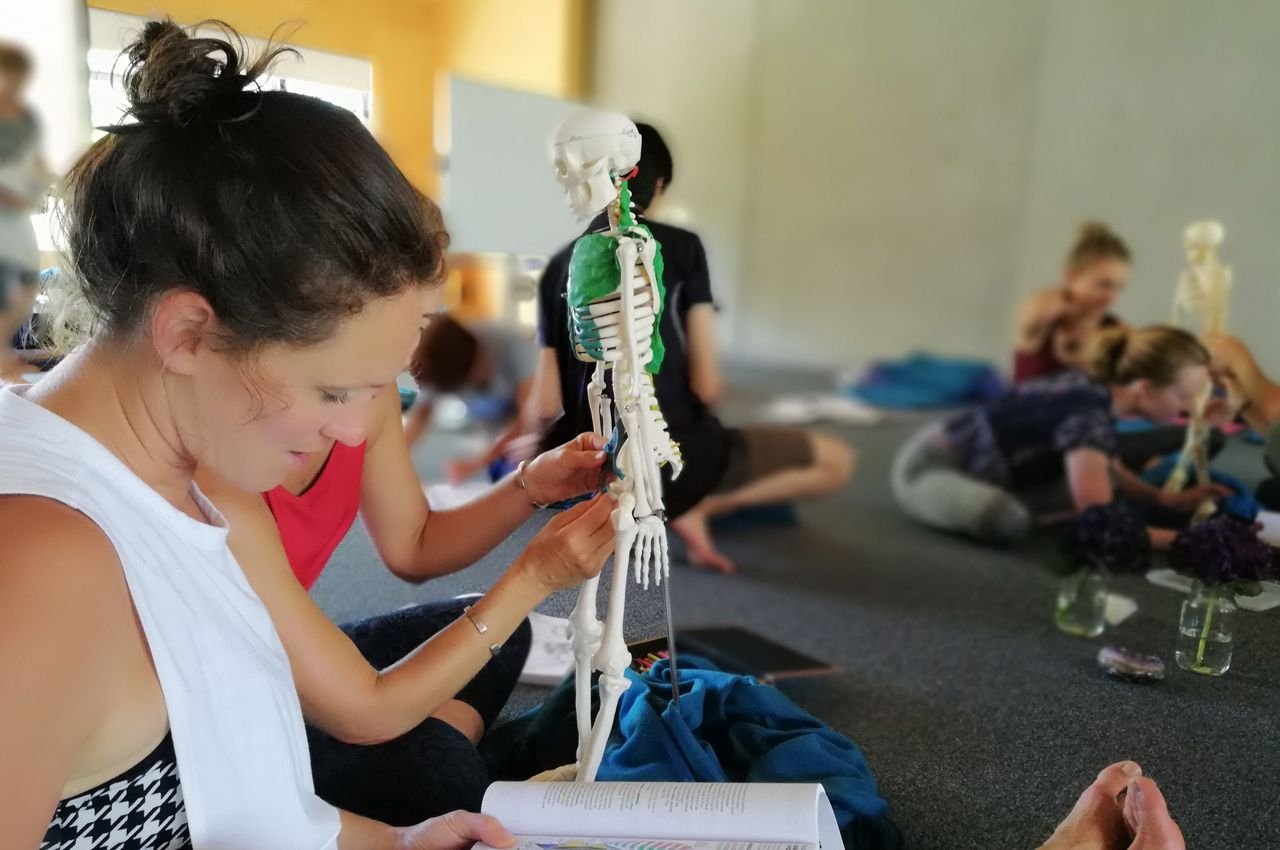 Neal specialises in private yoga tuition, whether this is for individuals or groups. Yoga sessions are fully tailored to individual needs and requirements. Given a choice in fact, all yoga should be taught this way – every person is unique, every body is a unique body, every psychology is unique and every day is a unique day.
With this in mind, we should be practicing yoga in a way which fully meets us in each day. Personal yoga sessions with Neal are geared towards helping you achieve this, so that you leave with a fluid tailored practice, one that is suited just for you and which is also responsive depending on what you wake up with each day.
The goal of teaching yoga is to empower you to find your own yoga practice that supports, sustains and nourishes you in your life.
"It was so lovely to meet you Neal and you helped me immensely to feel more confident about getting back on my feet. Very many thanks again."
Helen Simons
Three Sessions…
To encourage you to invest in your own personal practice, we recommend that you book for three sessions – you may only need 3 sessions, although ongoing support is often useful. What happens over the three sessions?
An initial assessment of how you are, your mobility, levels of comfort, state of mind and so on.
Between the first and second sessions Neal formulates a yoga practice tailored to suit you. On the second session we go through the practice together.
A week or two later we get together to review the tailored practice, and see how the practice has been helping you, and see if any adjustments are needed.
After the third session we review again to see if ongoing support and personal tuition is suitable and desired, and we continue to develop a personal practice for you.
Please contact Neal on 021 180 7867 or info@sacredmoves.com to find out more how personalised yoga tuition can help you.
Both Neal and Sacha qualified as massage therapists in the UK in 1998. Neal went on to study Thai Yoga Massage in Thailand and in New Zealand and loves sharing and practicing this dynamic, effective bodywork. His approach in Thai Yoga Massage is a gentle and sensitive one, respecting the mobility and stability of each individual.
Thai Yoga Massage uses assisted yoga stretches and acupressure to stimulate energy lines (like meridians), and to revitalize and balance your whole being. For this massage no oils are used and you remain fully clothed.
Thai Yoga Massage has developed and assimilated influences from India, from yoga and from the Chinese healing tradition. Neal has been trained by some of the best Thai Massage Practitioners – Pichet Boonthumme in Chiang Mai, Thailand and by Asokananda, who was a pioneer in bringing Thai Massage to the west.
Neal also occasionally teaches Thai Massage in mini-workshops geared towards sharing this lovely body therapy for friends and family.
Book a Thai Yoga Massage with Neal
Contact Neal on 021 180 7867 or info@sacredmoves.com to find out more or to book a session.
Rates:
$100 one hour
$135 hour and a half
$160 two hours
TESTIMONIAL FOR THAI MASSAGE
From my own experience as a massage therapist I know that it is not just the techniques and skills that one learns over the years that makes a good therapist – it's the open heart, the mindfulness and presence in each moment and each breath that completes the holistic treatment.
Thank you Neal for your intuitive, professional, and compassionate touch.
It is such a great sensation lying on the floor, fully clothed and just being stretched and rolled and pulled in every possible way, feeling every inch of my body and it's energy being revived, unblocked and brought into flow again.
And then there were moments in the treatment when it felt like there was only one source of energy that was moving you and me at the same time. That I call mastership – when there is no separation of mind and matter. I have only felt that once with another massage practitioner.
So again, thank you Neal for this universal treatment. My body, mind and spirit are renewed
 Namaste.
Subscribe to our newsletter for updates on classes, workshops, retreats, blog posts and more!