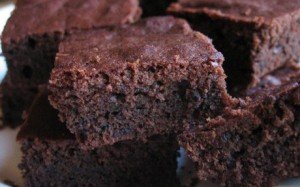 This recipe comes from my teacher Donna Farhi's cook book notes, one that she uses to help the cooks on her retreats and trainings. It's fabulous, never fails and very delicious. I borrowed it when we visited her a few years ago and have used it ever since. Enjoy!
Ingredients
105gms butter
150gms of dark chocolate
225 gms of either castor sugar or dark muscavado sugar
3 large eggs beaten
105gms rice flour (normal flour can be used of course)
1 tablespoon cocoa
1 teaspoon baking powder
pinch salt
Method
Heat oven to 180 degrees, grease a 10 x 8 tray
Melt butter and chocolate together (yum yum). Remove from heat, let it cool a little, then add and mix in the sugar. Mix in beaten eggs. Mix in dry ingredients. Pour the mixture into the tray and bake for around 18-22 minutes (depending on oven). Should be a little gooey in the middle.
Optional extras – some fresh raspberries, or nuts like cashews.
Olive Oil Chocolate Sauce to pour on top
Melt a bar of dark chocolate. Mix in the same amount of premium olive oil. add a hint of cinnamon and a very small touch of chilli. Pour into a small jug, for people to pour over their brownie.