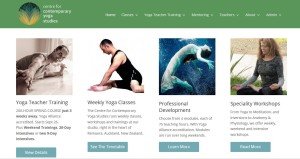 Four highly experienced yoga teachers have joined together to create the Centre for Contemporary Yoga Studies, based in Remuera. With over 80 years of yoga practice and teaching experience between them, Dyana, Karla, Neal and Vincent co-founded the centre with one key aim – to deliver excellence in all their classes, workshops and courses.
First Training Course Starts 26th September!
Together they designed, developed and presented 12 yoga teacher training courses over the past three years, a combination of 200-Hour and 300-Hour programs with Yoga Alliance accreditation. The 130 trainees from those courses have provided glowing testimonials, and the teachers are now known throughout the yoga community for these highly regarded programs.
Dyana Wells explains, "We have the same teachers with the same unique style of training, plus a new dedicated studio space. The centre enables us to provide a 'whole school' approach, which we were unable to do when the trainings were run in other locations. We now take responsibility for the quality, direction and vision of all aspects of the trainings."
New initiatives run alongside the training courses, including year-long mentoring, professional development workshops, private tuition and up to 15 yoga classes each week.
Young professionals in the 25-45 year-old demographic are strongly represented in the yoga teacher training courses, while everyone from 16 to 60 is welcome alongside them.
Karla and Neal regularly teach with Donna Farhi, including training spells across the Tasman. Dyana has a long association with Wellpark College, and is well known for disappearing on month-long retreats in places like Canada. Vincent is a frequent traveller too, a regular at conferences and yoga therapy workshops overseas, which includes tutoring 200-hour training in China.
Neal Ghoshal says, "I feel incredibly privileged to be part of the Yoga teacher training courses. These indepth and inspiring courses are designed to grow not only students' skills in teaching Yoga but also to develope a deep and life-long love of the practice. I feel honoured to be part of such an experienced and professional teaching team. These are the courses I wish I had taken when I first embarked on my Yoga Teacher journey."
Vincent Bolletta adds that the Centre's collective philosophy is "to establish a professionally run educational facility that offers both excellence in learning as well as providing a supportive environment that assists the journey of all students."
The 'whole school' approach also extends to 'whole person yoga', a step on from the recent mind-body emphasis.
Karla Brodie explains: "Studying with my current mentor and teacher Donna Farhi has attuned me into practice that is nourishing, embodied and steeped in kindness. That kindness extends to my self, to all of my body systems, and to all of my cells. It's a joy to share yoga practice that is kind, nourishing and eternally interesting."
If you're interested in getting right down to the DNA of yoga, perhaps the Centre is the place for you.
Emma, from Adelaide, had this to say:
Recently, I had the honour of being taught and guided by Neal Ghoshal on a teacher training program. His gentle manner was only eclipsed by his breadth of experience and knowledge in the art of being a Yogi.