Weakness, inflexibility, and lack of coordination are often not due to structural or muscular problems but caused by a lack of process. When that process is actualized, we experience strength, flexibility, and ease in our movement and our mind.
The Basic Neurocellular Patterns are an exploration of that process.
Bonnie Bainbridge Cohen 
I have to feel connected within myself and be able to claim my own movement sphere (kinesphere) before I feel comfortable moving in the world.
Peggy Hackney
The Origins of Alignment
25-29th September 2020
Even before we are born a biological template is programmed into our bodies that will gradually unfold to support not only the integration of our movement but also the fullest expression of our consciousness.
This intensive is a special opportunity for students to dive deep into the evolution of movement itself and rediscover the organic foundation of asanas. We will follow the progression of some of the early human developmental movement patterns that act as guiding threads for alignment in asana practice and in our everyday lives.
These fluid patterns permit us to move with maximum ease and power, and they offer us a way to tap into our instinctual ability to align the body.
Each day of this intensive will be divided into two sessions. Sessions will include lecture discussion, guided movement inquiry as well as slow and organic asana practice.
In the afternoon we will look at the specific applications of each pattern with some dyad work, restorative practice and Yoga Nidra (an ancient Tantric practice that involves moving into a profoundly deep state of relaxation as a means to reveal the substratum of our true nature).
Students with at least one years consistent Yoga practice up to teacher level are welcome to attend. If you are new to Donna's teaching you will find this an ideal introduction to some of the foundation principles of her approach.
Schedule and Registration Information
The Schedule
25th September, Friday 6.30-8.30pm
26-29th September, Saturday to Tuesday
10am-1pm, 2.30-5pm each day
The Venue
Mount Eden War Memorial Hall
489 Dominion Road, Mount Eden
Auckland 1024. (map here)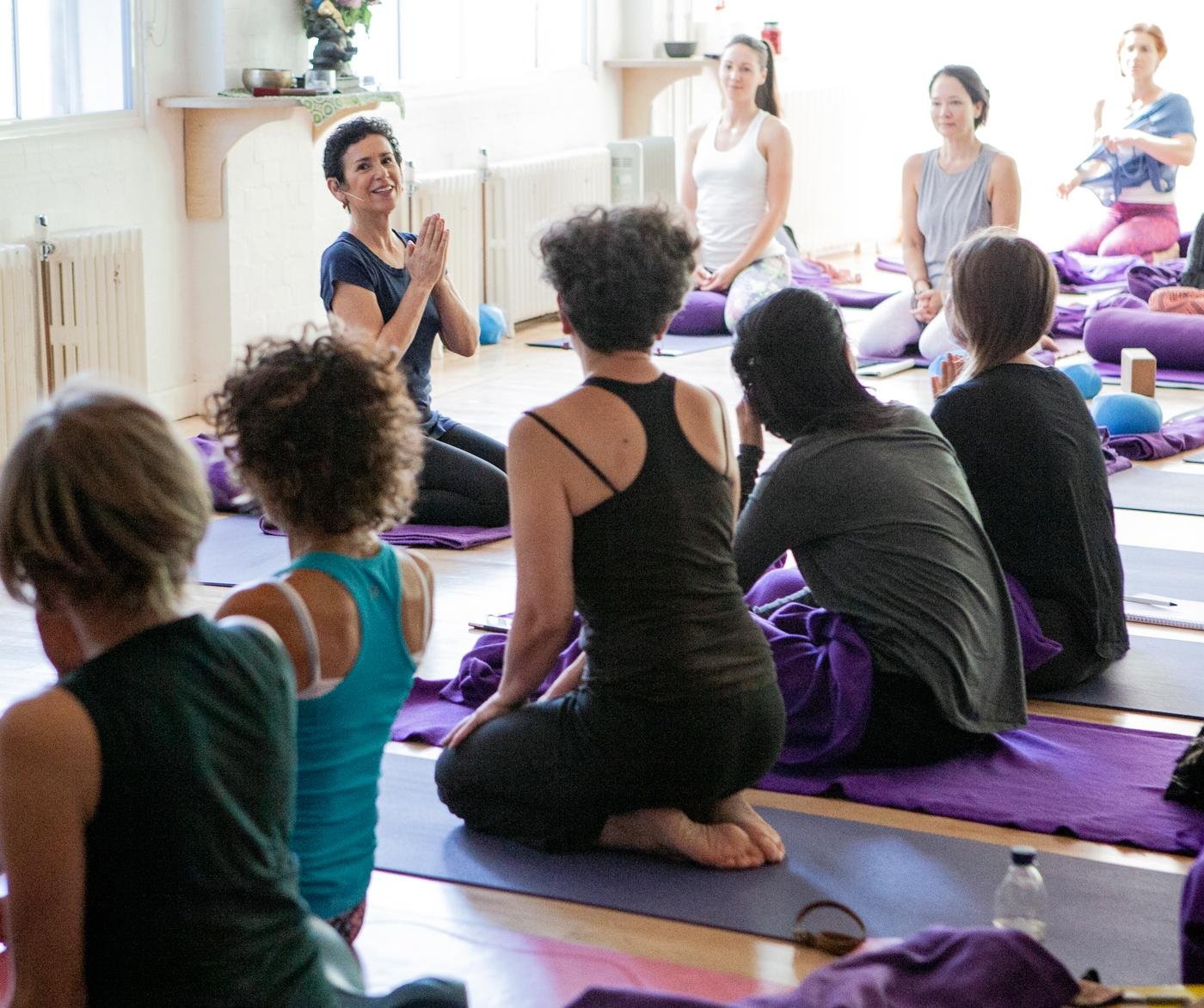 Donna Farhi is a Yoga teacher who has been practicing for over 40 years and teaching since 1982.
As a post-lineage pioneer, Donna has been at the forefront of generating a new model for teaching and practice that fosters self-inquiry through the cultivation of each persons inner reference system. Going beyond the archaic pedagogic model that is characterised by "Simon Says" mimicry and rigid formulaic methodology, her approach is to create a safe learning environment where her students can investigate, adapt and evolve their practice to honour their individual needs.
Incorporating the rigorous backing of anatomical principles for safe and sustainable practice, Donna offers progressive levels of engagement that allow people of all levels of experience and from all traditions to build their own authentic Yoga practice.
Considered the "teacher of teachers" students return to Donna's intensives year after year to be a part of the inspiring evolution of Donna's own practice and teaching.
Donna is the author of four contemporary classics:
The Breathing Book
,
Yoga Mind, Body and Spirit: A Return to Wholeness
,
Bringing Yoga to Life: The Everyday Practice of Enlightened Living
, and
Teaching Yoga: Exploring the Teacher-Student Relationship
which is a curricular text for teaching trainings worldwide.
Her fifth and most recent book, co-authored with Leila Stuart, Pathways to a Centered Body: Gentle Yoga Therapy for Core Stability, Healing Back Pain and Moving with Ease is becoming the go-to text for Yoga teachers, therapists and somatic practitioners.
Her latest online tutorial courses on Anatomy of a Centered Body and Yoga for Lower Back Pain: Keys to Sacroiliac Stability and Ease of Movement, are making her expertise more accessible to teachers and students worldwide (donnafarhi.co.nz).