Yoga Intensives
with Donna Farhi
Coming Back To Our Senses
12-16th April 2019
Yoga for Lower Back Pain
Keys to Sacroiliac Stability and Ease of Movement
17-18th April 2019
Titirangi War Memorial Hall
Titirangi, Auckland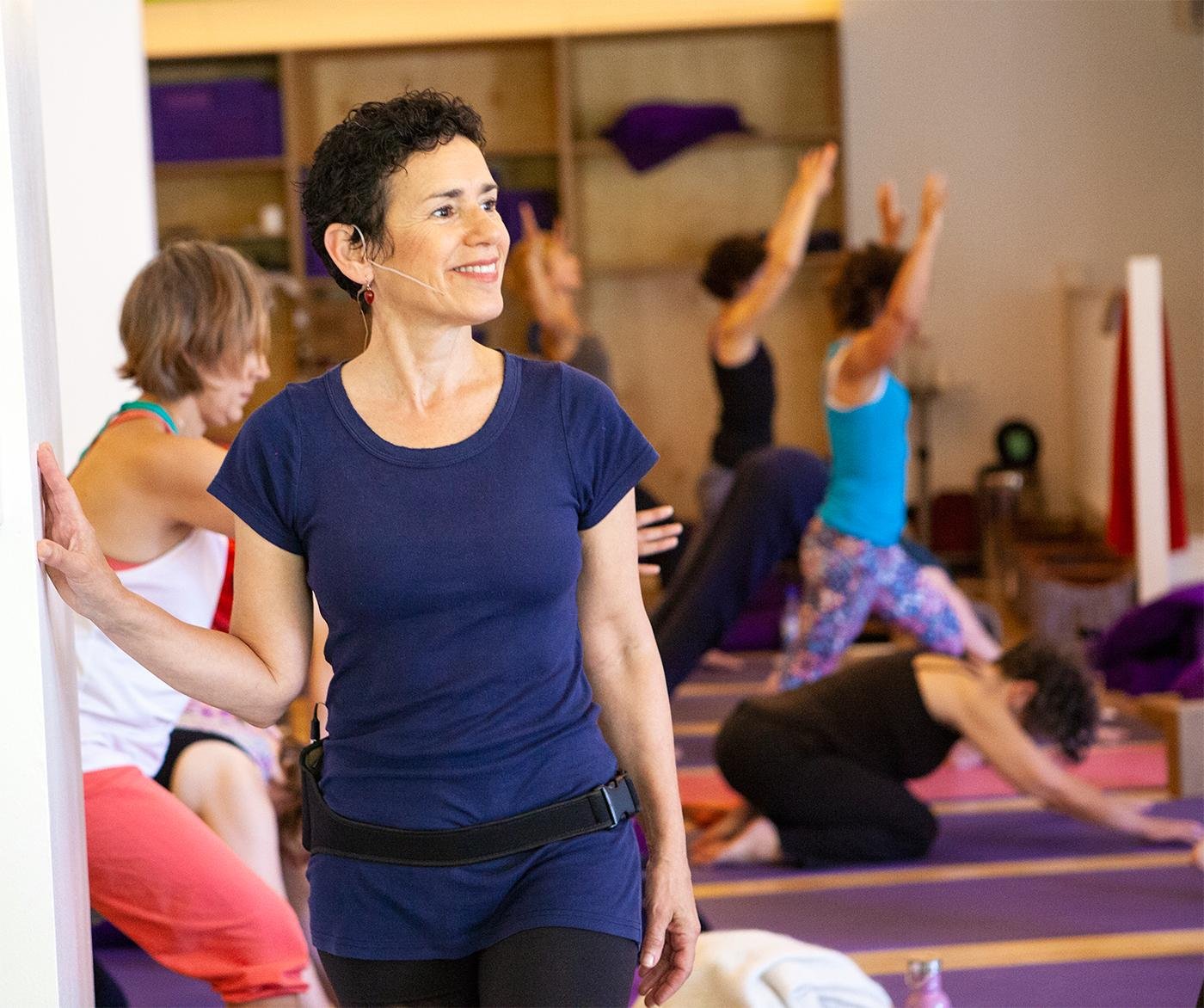 Almost anyone can learn to think or believe or know, but not a single human being can be taught to feel. Why? Because whenever you think or you believe or you know, you're a lot of other people, but the moment you feel, you're nobody-but-yourself.
e.e. cummings
We can be given tools. We can be pointed in a certain direction. We can practice with others, but we go the way alone."
Terry Ray
Coming Back To Our Senses
12-16th April 2019
What should I be feeling?
These are all questions that arise through seeking an external reference and standing outside our own direct experience. Yet, the "breaking news" of the body's weather is arising moment-to-moment as a fresh and accurate portrayal of our inner experience, whatever it may be.
Learning to adapt, clothe, and to tailor our approach based on this body weather report can transform Yoga practice into a powerful self-inquiry that paves the way towards self-knowledge and self-healing.
Our sense perception offers us knowledge through direct experience versus knowledge as information, yet from a very young age we're taught to distrust our felt perception.
Years of indoctrination in methods, techniques, and formulaic paradigms developed by outside authorities can tyrannize perception, pulling us away from, rather than towards our own insight.
Unconscious conditioning about pain, comfort, effort and relaxation, can thwart self-care towards self-coercion.
This intensive is a chance to explore building a greater connection to and confidence in your own kinesthesia (interoception). As you shift from the outward striving of acquisition towards the inward journey of inquisitiveness the body suggests new options, vectors, and subtle possible entry points into movement leading you back to what is true and helpful.
Our days will be filled with brief sitting meditations, delightful movement inquiry, sensory awareness explorations, and slow yet deep Yoga practices. We'll also use progressively longer Yoga Nidra practices to heighten the relaxation response and reveal the deeper messaging of our embodiment.
This intensive is for practitioners of Yoga and somatics with at least one years' consistent personal practice.
Schedule and Registration Information
The Schedule
12th April, Friday 6-8pm
13-16th April, Saturday to Tuesday
10am-1pm, 2.30-5pm each day
Prices

4½-day Coming Back To Our Senses: $635
2-day Yoga For Lower Back Pain: $285
If taken together: $782 (15% discount)
All amounts in NZ dollars
Yoga for Lower Back Pain
Keys to Sacroiliac Stability and Ease of Movement
17-18th April 2019
In this intensive, renowned Yoga teacher and author, Donna Farhi will guide you through the complex anatomy and kinesiology of the sacroiliac joints so that you can better understand why certain practices compromise the integrity of these joints.
Drawing on decades of medical research, we'll look at several models for joint function and spinal stability that will enable you to make safe movement choices.
What You Will Learn
Anatomy of the sacroiliac joints
Eight things yogis do to stuff-up their sacroiliac joints
How to reduce pain and discomfort
Learn to build pelvic integrity
How to maintain stability while regaining mobility
You will learn how to work in progressive stages to first alleviate pain, regain symmetry, stability and strength, and gradually restore the multi-dimensional movement, which is crucial for everyday activities. Donna draws on her own experiences from recovering from a riding accident, which now informs her work in helping others to restore pelvic stability.
" . . . no anatomical structure functions in isolation and the mechanical load anywhere in the body is distributed through a continuous network of fascia, ligaments and muscles supporting the entire skeleton. . . focusing on singular anatomical structures to comprehend lumbo-pelvic pain, rather than considering the spine and pelvis as an integrated, interdependent and dynamic biological structure, might 'blind' the observer to the larger picture." 1
"More and more Yoga practitioners (and teachers) are showing up to class with sacroiliac discomfort becoming members of a rapidly growing international SI Club." 2
In many instances, sacroiliac joint issues in Yoga practitioners are the consequence of repetitive dysfunctional movements, skewed body mechanics and forceful overstretching. Over time, these actions can erode the inherent stability of the pelvis and sacroiliac joint, resulting in pain and movement impairment.
It is critical for yoga teachers and students to learn how to prevent and resolve sacroiliac instability to avoid injuries and establish a solid foundation for their practice.
1 – Vora AJ, Doerr KD, Wolfer LR. Functional anatomy and pathophysiology of axial low back pain: disc, posterior elements, sacroiliac joint, and associated pain generators. Phys Med Rehabil Clin N Am. 201:21:679-709 [Pubmed]
2 – Thanks to Robin Rothenberg who first described the phenomena of the SI Club.
Schedule and Registration Information
The Schedule
17-18th April, Wednesday and Thursday
10am-1pm, 2.30-5pm
Prices
4½-day Coming Back To Our Senses: $635
2-day Yoga For Lower Back Pain: $285
If taken together: $782 (15% discount)
All amounts in NZ dollars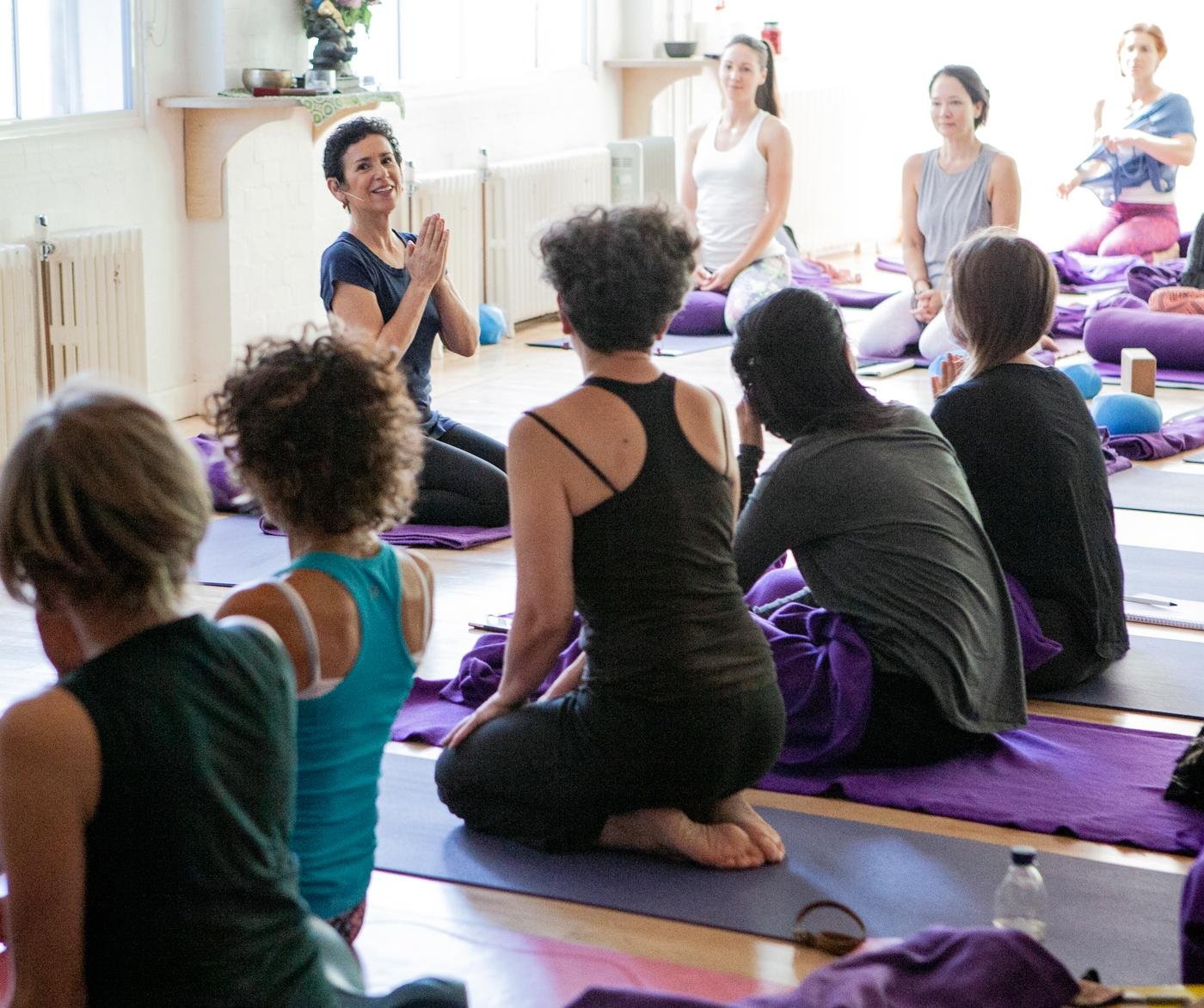 Donna Farhi is a Yoga teacher who has been practicing for over 40 years and teaching since 1982.
As a post-lineage pioneer, Donna has been at the forefront of generating a new model for teaching and practice that fosters self-inquiry through the cultivation of each persons inner reference system. Going beyond the archaic pedagogic model that is characterised by "Simon Says" mimicry and rigid formulaic methodology, her approach is to create a safe learning environment where her students can investigate, adapt and evolve their practice to honour their individual needs.
Incorporating the rigorous backing of anatomical principles for safe and sustainable practice, Donna offers progressive levels of engagement that allow people of all levels of experience and from all traditions to build their own authentic Yoga practice.
Considered the "teacher of teachers" students return to Donna's intensives year after year to be a part of the inspiring evolution of Donna's own practice and teaching.
Donna is the author of four contemporary classics:
The Breathing Book
,
Yoga Mind, Body and Spirit: A Return to Wholeness
,
Bringing Yoga to Life: The Everyday Practice of Enlightened Living
, and
Teaching Yoga: Exploring the Teacher-Student Relationship
which is a curricular text for teaching trainings worldwide.
Her fifth and most recent book, co-authored with Leila Stuart, Pathways to a Centered Body: Gentle Yoga Therapy for Core Stability, Healing Back Pain and Moving with Ease is becoming the go-to text for Yoga teachers, therapists and somatic practitioners.
Her latest online tutorial courses on Anatomy of a Centered Body and Yoga for Lower Back Pain: Keys to Sacroiliac Stability and Ease of Movement, are making her expertise more accessible to teachers and students worldwide (donnafarhi.co.nz).