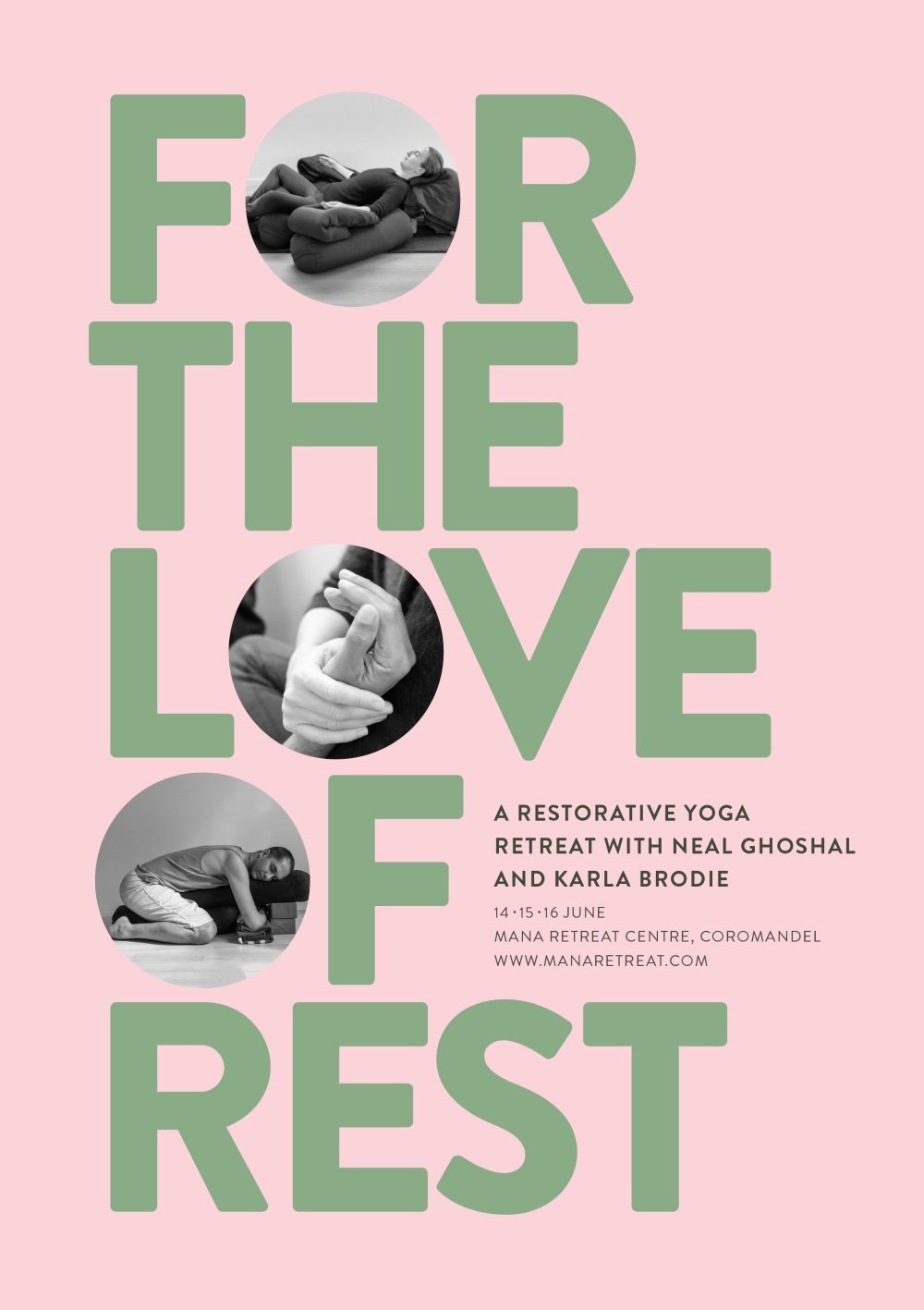 with Karla Brodie and Neal Ghoshal
from $540 incl. all accommodation & meals
(options available)


Book through Mana to register your place:
+64 7 866 8972  |  manaretreat.com

Join us for a three day mid-winter retreat 14-16th of June 2018 at the stunning Mana Retreat, Coromandel.

The retreat will begin on Friday with lunch and a welcoming, settling in and releasing class. After dinner, we will dive into a restorative practice. The Saturday schedule will include an active morning and restorative afternoon session with space for walks, reading and feasting. We will conclude the day with a simple restorative practice after dinner.

We will complete on Sunday with a long morning practice followed by a shared lunch. All the meals are vegetarian and have been co-designed by Karla and Mana to nourish the body and support our yoga practice.

In the deepest days of winter, the heartwarming retreat gifts space to rest, nourish and revitalise. Join us for ease-full practices of restorative and gentle Yoga, as well as iRest Yoga Nidra – complemented by the seasonal offerings of Mana: wood fires, delicious food and forest wanders.

The retreat fees from $540 include all meals, simple accommodation and over 10 hours of tuition. Classes will be co-taught by Karla and Neal, and assisted by skilled senior students.
Our Retreat Schedule
Lunch at Mana on Friday 14th June from 12.30pm (optional)
Sessions: Friday: 3-5.30pm and 7.30-9pm
Saturday: 9.30am-12noon, 3-5.30pm and 7.30-9pm
Sunday: 9.30am-12noon and lunch
We have purposefully timed this retreat for ease in arriving and ease in completion – ie, not rushing to arrive on a Friday night, but instead, we encourage you to take the time to leave on Friday morning for a leisurely trip to arrive by lunchtime or the first afternoon session.
We complete our time together over lunch on Sunday so that we ample time to travel back home without stress. We encourage and invite you to offer yourself a spacious retreat, surrounded by ease!
This nourishing weekend will include active yoga, long restorative practices and iRest™ Yoga Nidra.
Restorative Yoga is a safe, nurturing and truly joyful practice. Karla and Neal are highly skilled and passionate about this approach and welcome you this retreat, a place where you may return home to a body and mind that is at ease and fully vibrant.
Restorative Yoga is a gentle practice that can have profoundly beneficial effects which include:
A dismantling of chronic tension patterns
Enhanced immune function
Effective cellular respiration
Reduced hyper-tension in the cardiovascular system
Reduced mental and emotional tension
The body-mind can return to a natural state of ease and equilibrium
We look forward to sharing our passion and love of  resting well with you ~ Neal and Karla 🙂
"Thanks Karla and Neal for the amazing weekend. It was a beautiful gift to be here. Your peaceful and loving energy certainly made the weekend special."
Antonella

"There was a profound truth and ease present here that made it possible to discover some of one's own profound truths and ease."
Sally

"Being on retreat with you Karla and Neal is so utterly nourishing, relaxing and restoring. You both live and embody your teachings which makes the experience even more special. Thank you."
Karen Ross
About Karla Brodie
Karla is an experienced and qualified teacher who is inspired is to share the practice of yoga to enhance awareness of breath, movement and conscious rest and everyday life.
More about Karla here >>
About Neal Ghoshal
Neal's teaching focuses on refining natural movement and alignment principles – learning to embody these principles in a way that takes our spiritual practice into our everyday lives. Teaching in New Zealand and internationally, Neal brings a compassionate open heart to his classes and enjoys creating a warm and inviting space in which to learn, play and practice Yoga.
More about Neal here >>
About Mana Retreat and How to Book
Mana Retreat Centre Mana has a long and respected history as a retreat centre in the Coromandel Peninsula. Mana Retreat is one of the most stunning retreat centres in New Zealand. All bookings for this retreat are via Mana.
Phone: +64 7 866 8972
Website: www.manaretreat.com
Email: be@manatreat.com
More about Restorative Yoga here >>